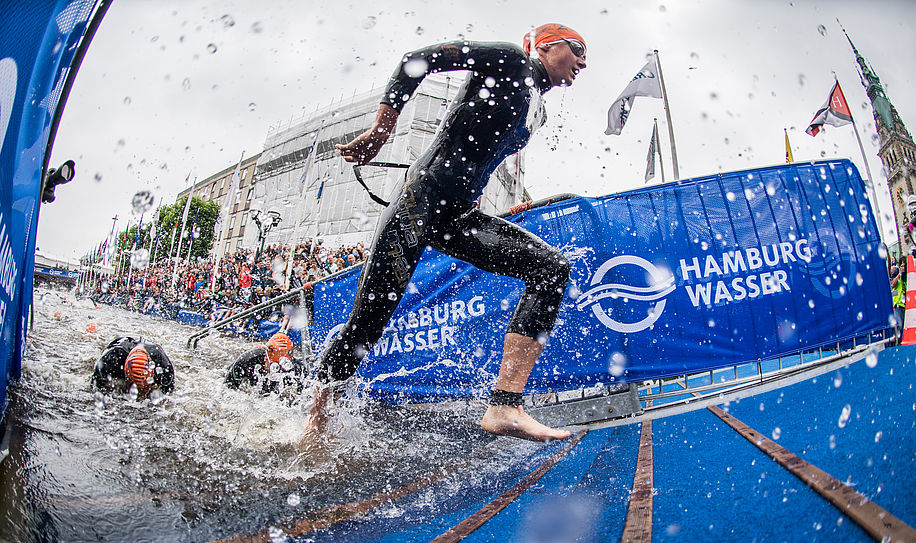 HAMBURG WASSER World Triathlon
HAMBURG WASSER (Hamburg waterworks group) has been supporting the Hamburg Triathlon for almost 20 years now. Since 2016, the group has been the title sponsor of the world's biggest triathlon event. This event makes water protection, one of the core services of the group, visible – and not just to the athletes.
Since the 1990s, HAMBURG WASSER has been pursuing consistent sewer system development for the protection of the Elbe, Alster, Bille and other rivers and waters in and around the Free and Hanseatic City of Hamburg. The water quality of the Alster River meets the highest hygiene standards and is therefore particularly apt as an attractive water racecourse for modern triathlons.
Now HAMBURG WASSER will be engaging in a new service for the triathlon's more than 10,000 participants. With its new initiative called "Siegerbettchen" ("Little beds for winners"), it takes the social and economic aspects of the sports event into account for the first time, too. On its online platform www.siegerbettchen.de, interested individuals will be able to find free accommodations for future weekend events, register a search or offer a place to sleep.
With this exemplary campaign, the organizers are seeking to promote the networking and exchange of sports afficionados from all around the world and, at the same time, provide economic support to the participating amateur athletes.
Further information: siegerbettchen.de
© Photo: picture alliance
Go back