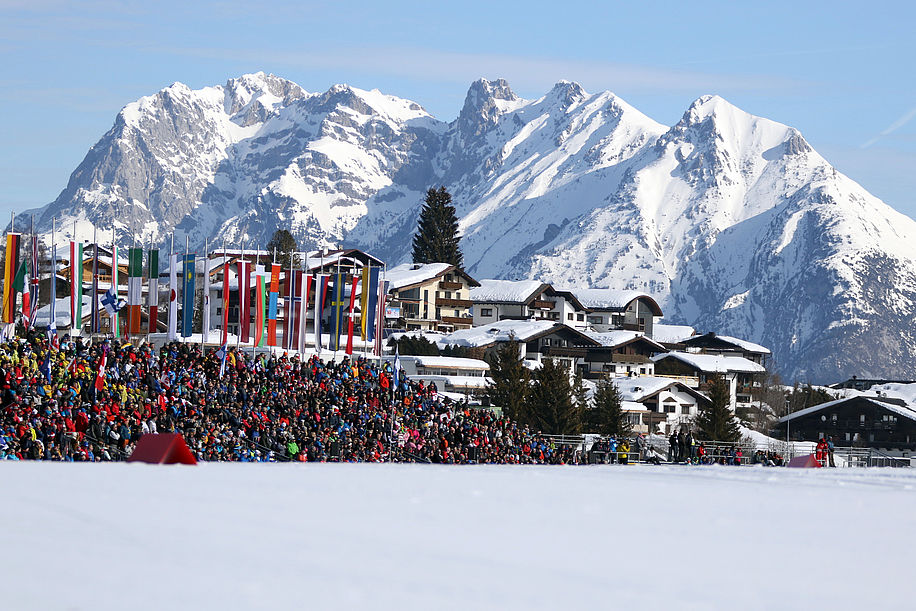 FIS Nordic World Ski Championships 2019
During the Nordic World Ski Championships in Seefeld and Innsbruck, Austria, the over 200,000 visitors from around the world ensured an amazing atmosphere. It was the organizers, however, who had made every possible effort to protect nature and the environment in the run-up to the event while cutting costs at the same time.
other things, two stadiums with temporary stands were erected for the Championships and can be reused at future large-scale events taking place in Tirol. A massive reservoir was also built to guarantee the creation of a solid artificial snow base within 48 hours for the cross-country skiing trails and ski jumps. The reservoir's design allowed for the snowmaking to occur through inherent pressure.
Energy supply for the event was covered with the help of temporary transformer stations for renewable energy instead of diesel generator sets. Mobility throughout the event was ensured primarily via public transport, thanks to a comprehensive traffic concept.
goal in the context of the event was waste management, geared towards preventing unnecessary waste and encouraging efficient waste separation and the disposal of unavoidable waste. Some 500 waste collections containers and 10,000 pre-collection bags, along with customized removal logistics involving containers and garbage trucks, enabled 31,800 kg CO2 equivalents to be saved. This is equivalent to the carbon emissions generated by a passenger car driving 250,000 km.
Further information: www.ara.at/aktuelles/news/fis-nordische-ski-wm-seefeld-ara-und-organisationskomitee-melden-sammelerfolg
© Photo: picture alliance
Go back